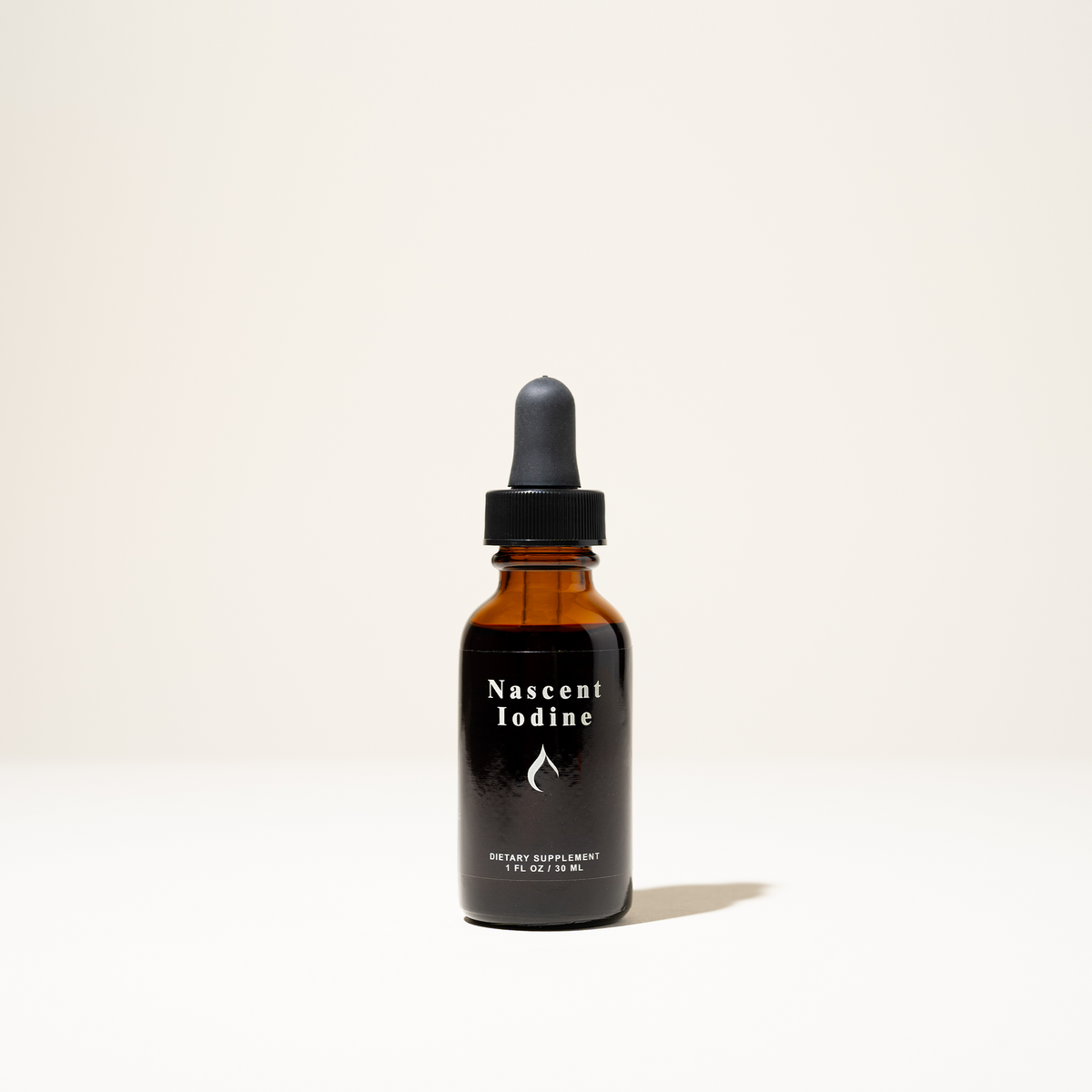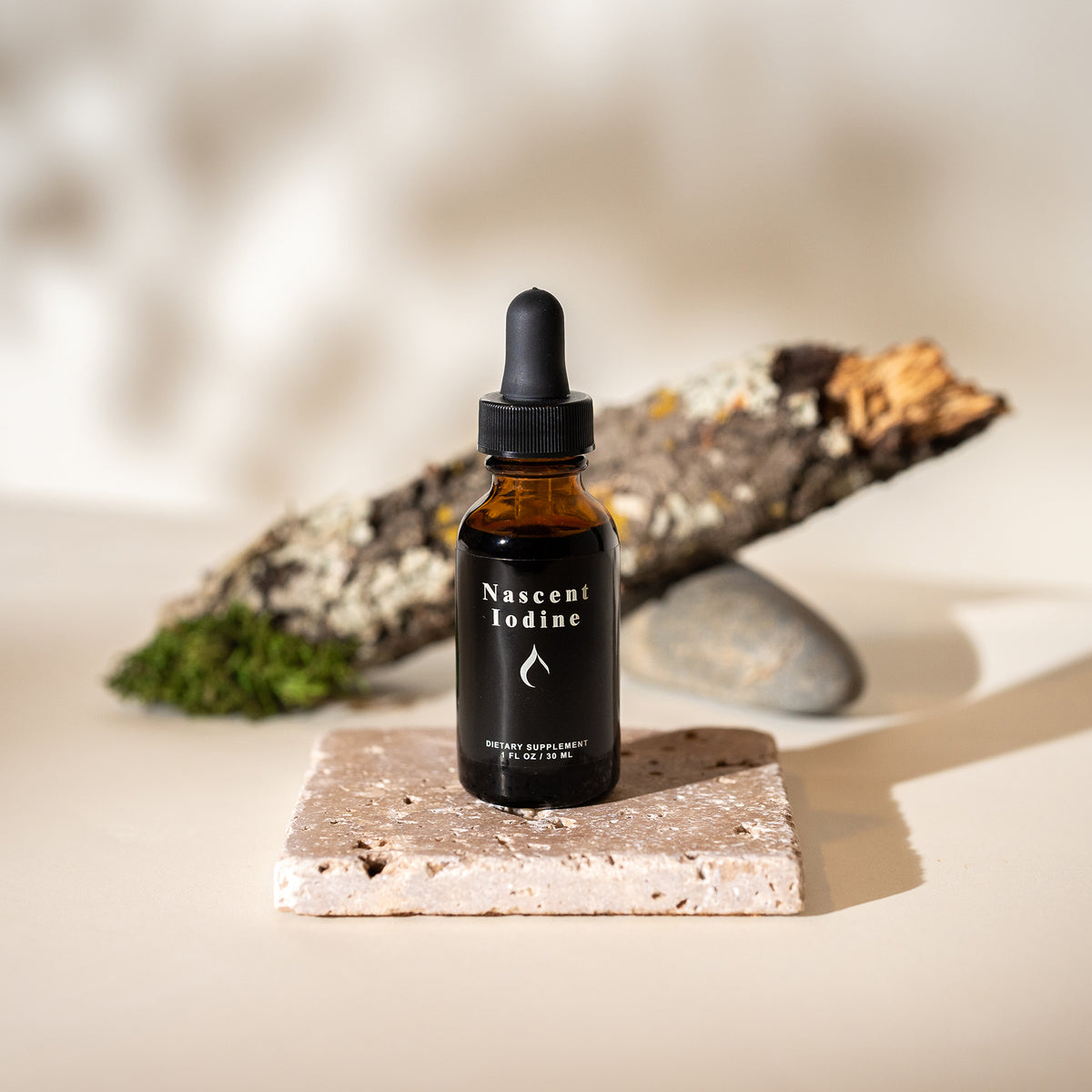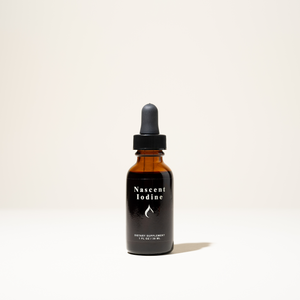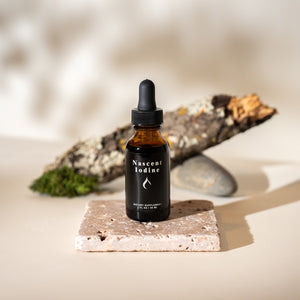 Nascent Iodine
Description
Nascent Iodine is a consumable form of atomic iodine in a pristine base of Demeter Certified Biodynamic grape alcohol.
Benefits
Offers a superior and convenient means of supporting healthy thyroid function


Supports healthy energy levels and metabolism


Maintains health of reproductive, breast, and intestinal tissue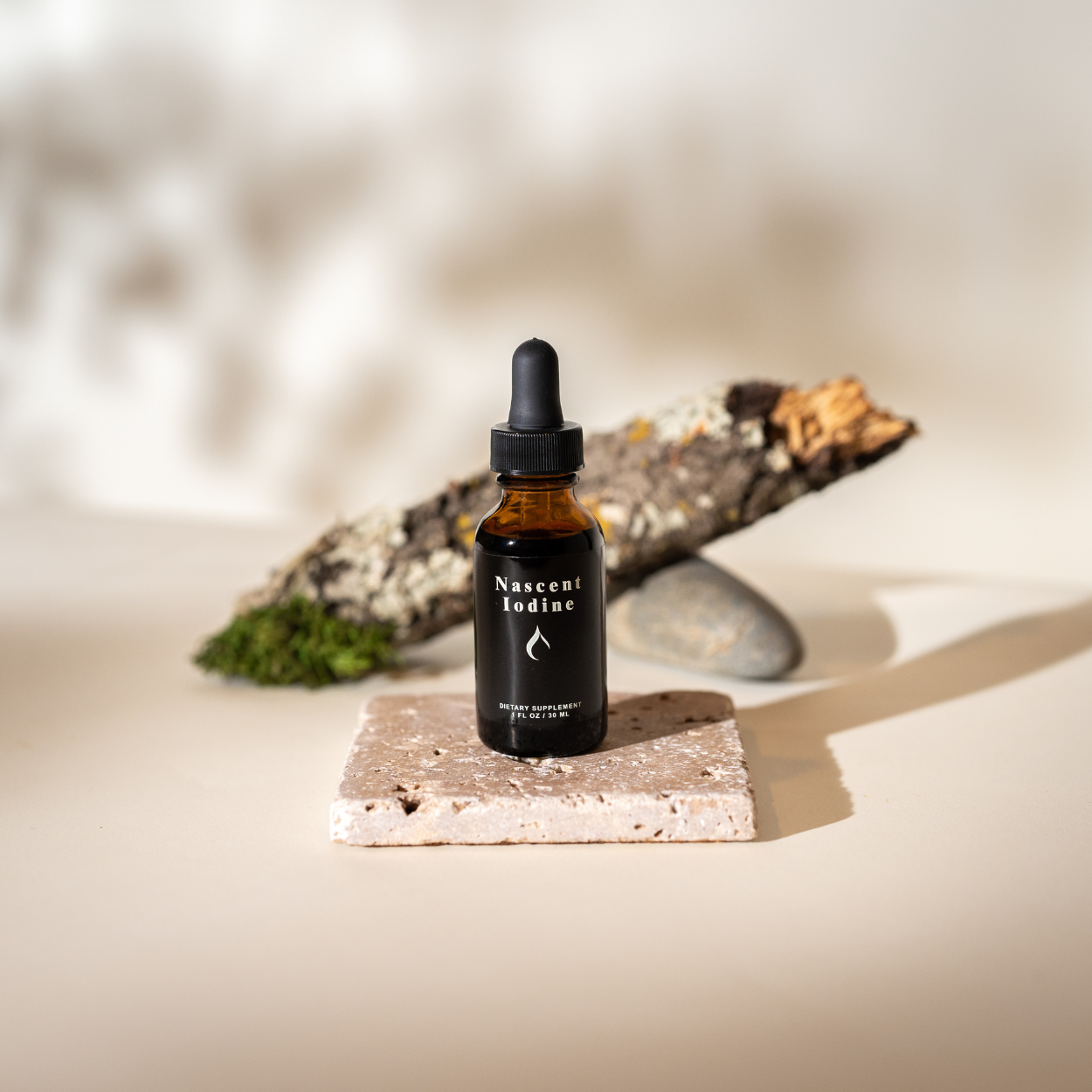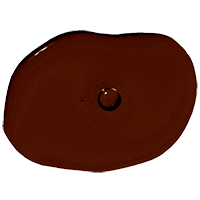 A consumable iodine in its atomic form, rather than its molecular form making it most readily available to the body.
Ingredient highlights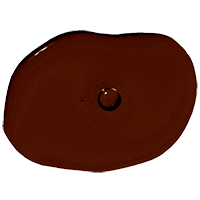 Nascent Iodine
A consumable iodine in its atomic form, rather than its molecular form making it most readily available to the body.
Ingredients List
Nascent Iodine in a base of Demeter certified Biodynamic grape alcohol (2% Iodine by weight / 400mcg of nascent iodine per drop)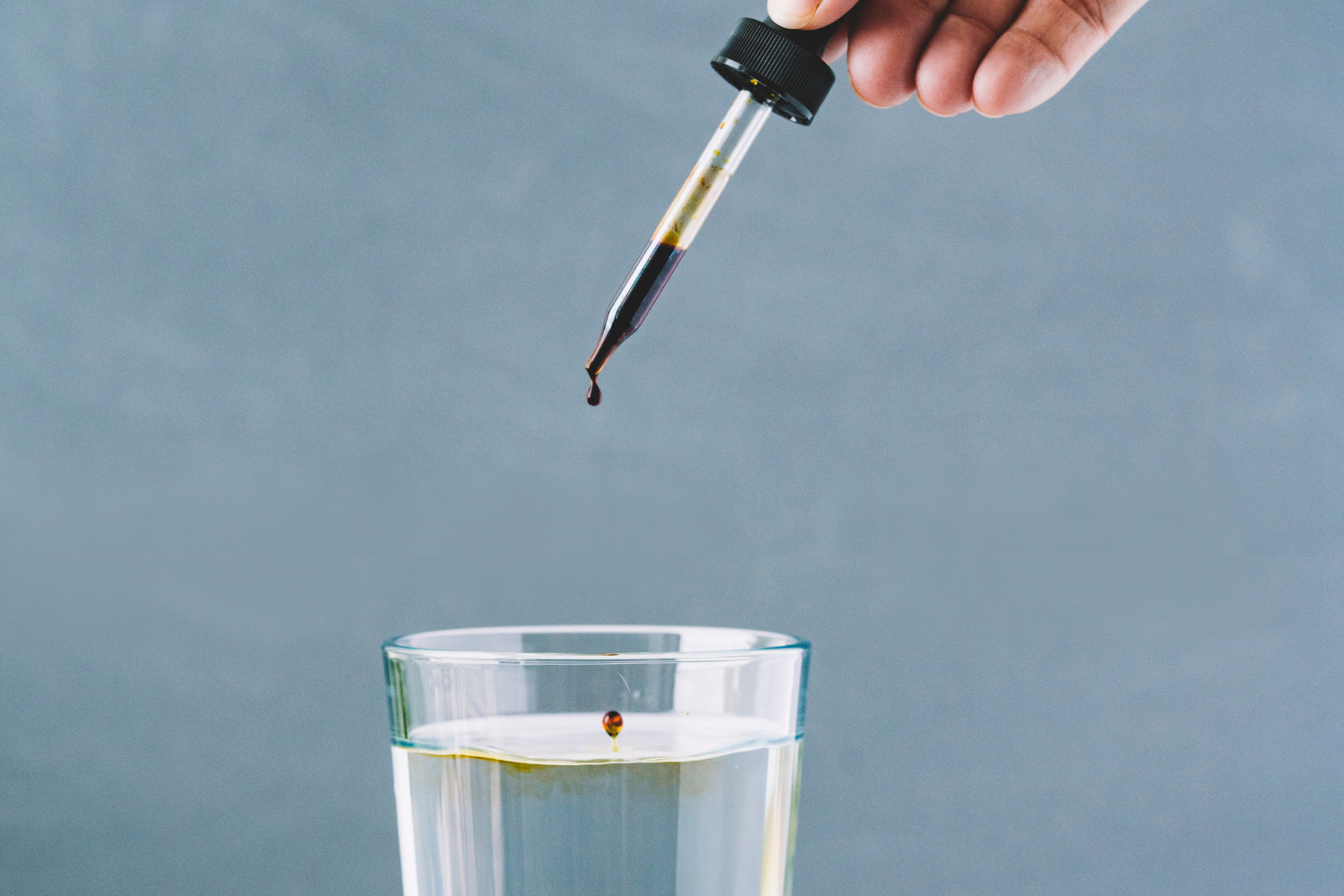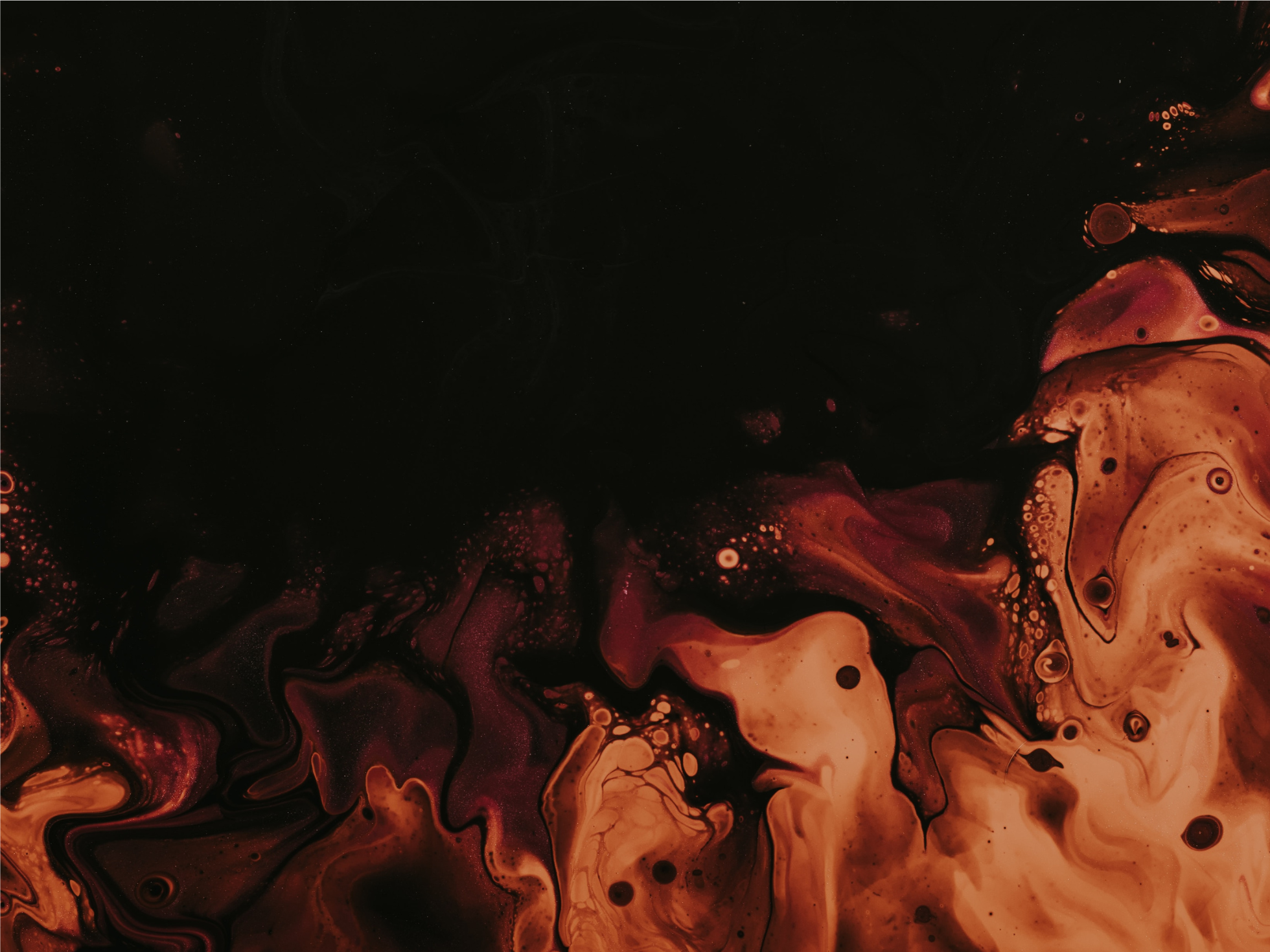 01
What is iodine?
Iodine is one of the crucial minerals required by the body, playing a vital role in facilitating enzymatic reactions, hormone production, cellular communication, and numerous other functions. While iodine is not required in the same abundance as major minerals like magnesium and calcium, it remains essential for our well-being, particularly in relation to thyroid health.
02
What does it do in the body?
Iodine provides several health benefits as it plays a crucial role in the body. It is essential for proper thyroid function, helping to regulate metabolism, growth, and development, as well as maintaining body temperature and energy levels. Adequate iodine intake is also important for brain development, especially during pregnancy and early childhood, as well as for maintaining a healthy metabolic rate and promoting optimal energy production. Additionally, iodine supports reproductive health, immune system function, and breast health.
Customer Reviews
Best Iodine
Best Iodine I have ever found!!
Excelente product
One of my friends recommended this product to me.
My energy level is super low, I started taking it in 3 weeks ago, and it made a world of difference, I will be taking Nascent Iodine for the rest of my life.
Iodine
One of my friend recommended this product to me and I've been taking for the last three weeks and I have to say it really works. I have so much more energy. I guess I needed it.
FAQs
Yes, take on an empty stomach 30 minutes before or 1 hour after meals, medications and/or other supplements.


Frequent small doses are more readily absorbed than larger amounts at less frequent intervals. Taking Nascent Iodine after 4 PM could raise your energy levels and keep you awake at night. It is recommended to take before breakfast, before lunch and then again before 4 PM.


Most iodine supplements are in the form of potassium iodide. Nascent iodine is iodine in its atomic rather than its molecular form. It is an iodine atom that has an incomplete number of electrons meaning it can hold an electromagnetic charge. Nascent iodine has a large energy release when consumed because energy is saved. Nascent iodine is recognized by the body as the same iodine that is produced by the thyroid so it is absorbed effortlessly by the body.


This certification has extremely high standards and must be renewed annually. Demeter's "Biodynamic" certification requires biodiversity and ecosystem preservation, soil husbandry, prohibition of genetically engineered organisms, and viewing the farm as a living "holistic organism". This certification verifies the fulfillment of the standards on behalf of the farmers, which in turn guarantees high quality food products to the consumer.


Room temperature is just fine.


It has a shelf life of 3 years from the date of manufacture, and once surpassed, we are unable to recommend using the product.