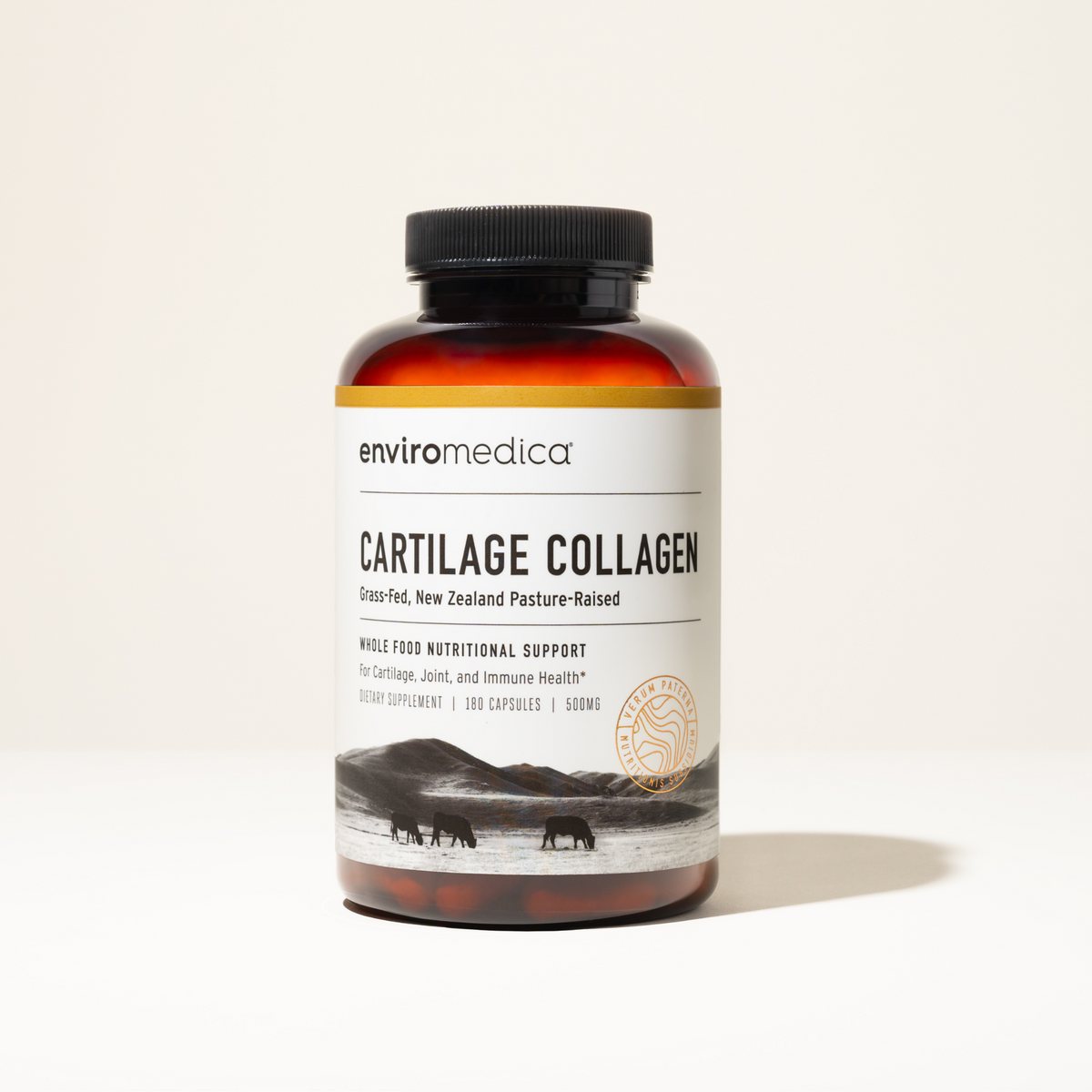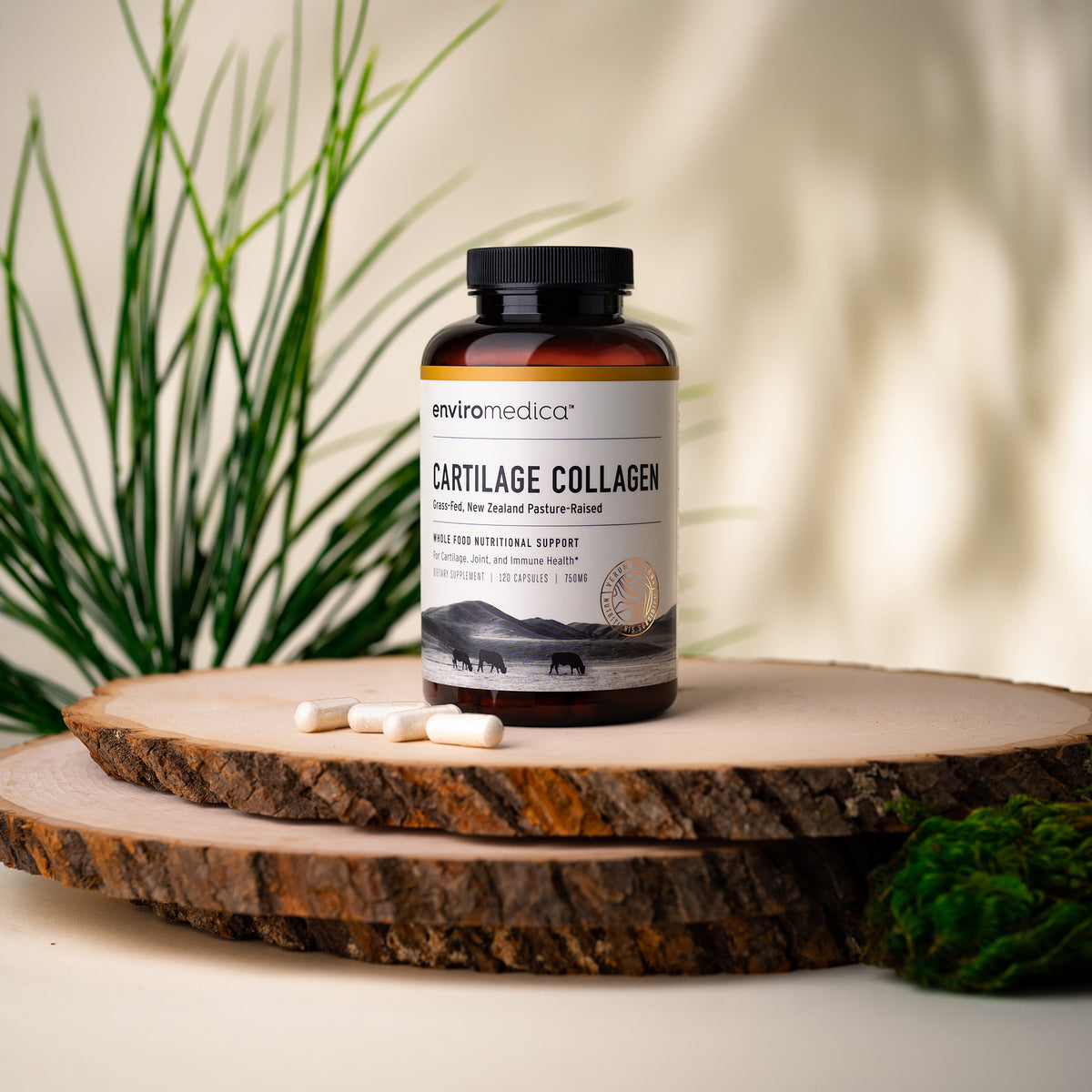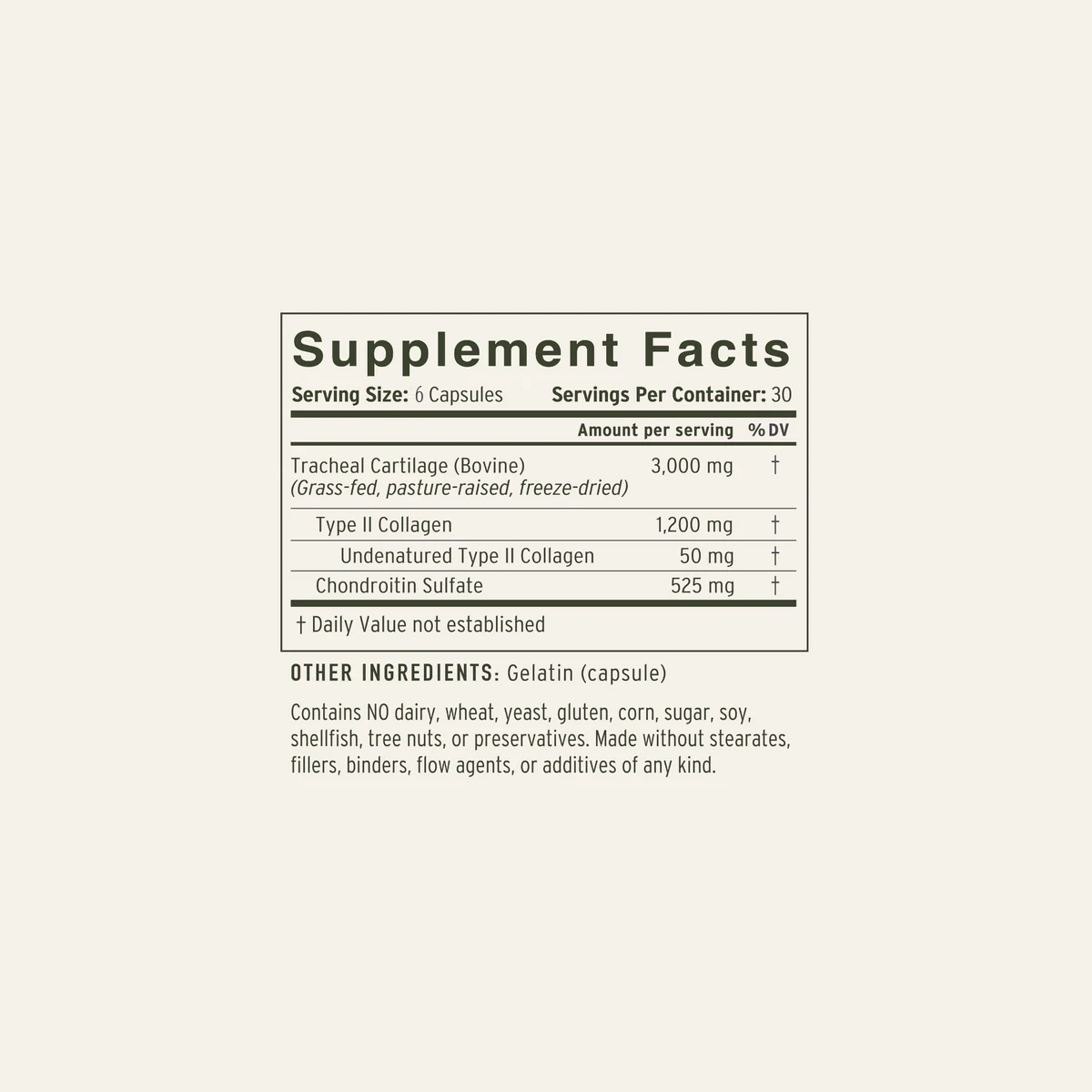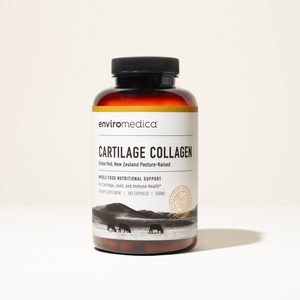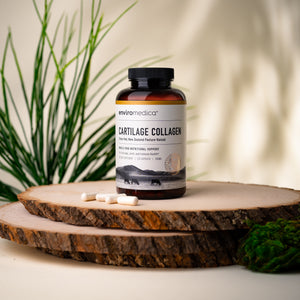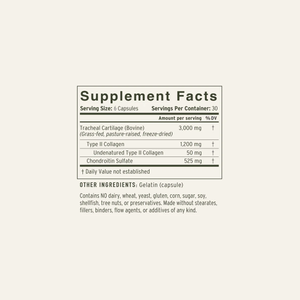 Pastured Cartilage Collagen
Description
Build healthy joints and cartilage with collagen in a whole-food form your body can readily absorb and use. Sourced from grass-fed cattle regeneratively raised on rich pastures in New Zealand, our Cartilage Collagen contains a concentrated matrix of naturally occurring nutrients in their correct physiological ratios, including undenatured type II collagen and chondroitin sulfate.
Benefits
Collagen is a protein that is integral to the structure and function of the human body. Structurally, it's the "glue" that holds us together, helping to keep our joints, cartilage and connective tissue healthy. The modern diet typically lacks the collagen found in ancestral diets, and our Cartilage Collagen capsules provide an easy, whole-food approach to replenishing depleted collagen stores within your body.


Cartilage Collagen is rich in type II collagen and chondroitin sulfate, two major structural components of connective tissues. Research shows that consuming type II collagen promotes healthy collagen formation throughout the body and helps provide a natural cushion to support joints and cartilage.


Bovine tracheal cartilage contains compounds that have powerful balancing effects on the immune system. It has the unique ability to stimulate the immune system when needed while acting as an immunoregulator.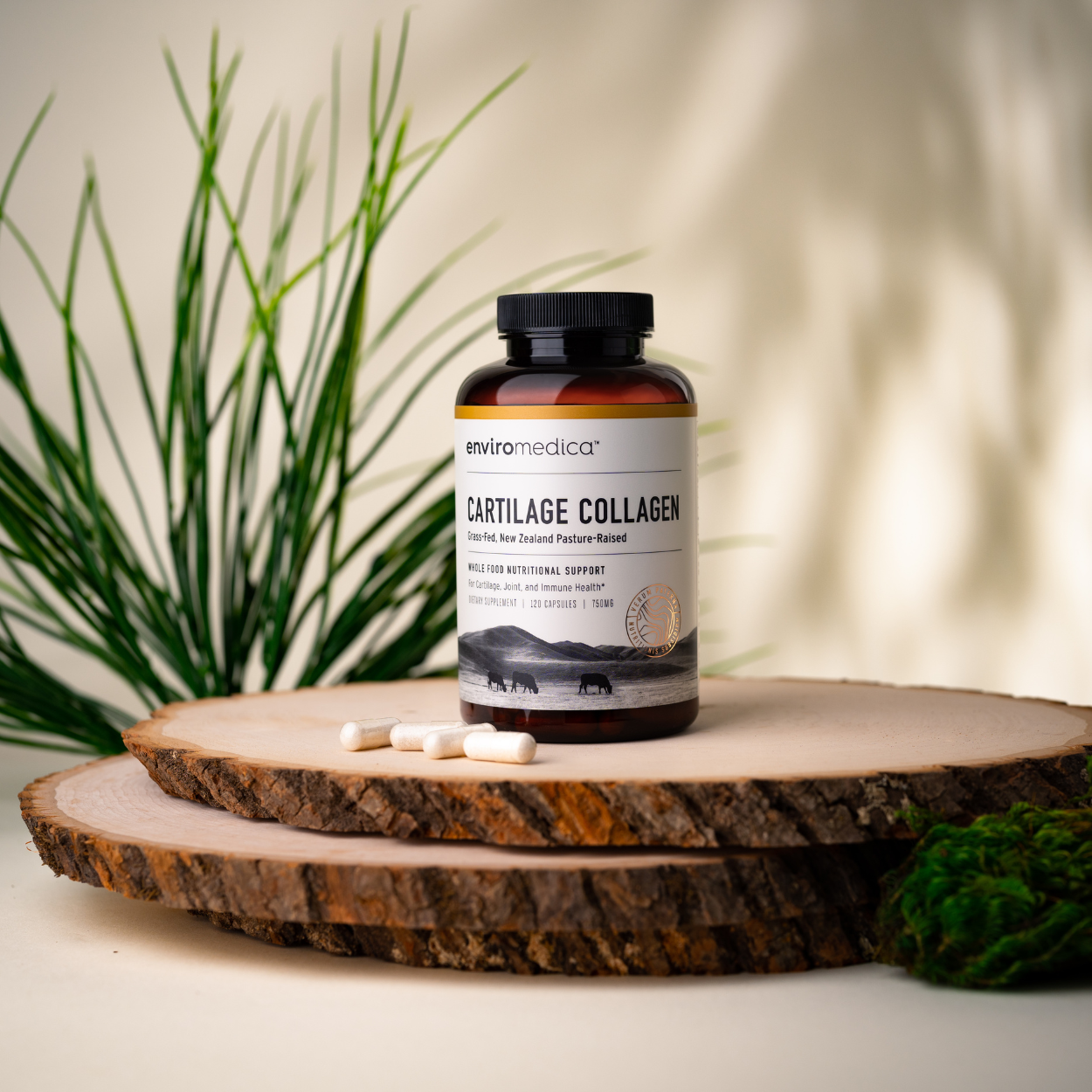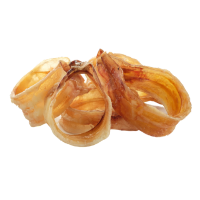 Frequently consumed in traditional diets, pastured bovine tracheal cartilage is rich in boactive compounds including undenatured type II collagen and chondroitin sulfate. This strong, flexible tissue surrounding the trachea is gently freeze-dried to preserve its biological activity and nutrient content.
Ingredient highlights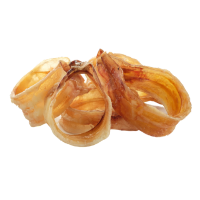 New Zealand Bovine Tracheal Cartilage
Frequently consumed in traditional diets, pastured bovine tracheal cartilage is rich in boactive compounds including undenatured type II collagen and chondroitin sulfate. This strong, flexible tissue surrounding the trachea is gently freeze-dried to preserve its biological activity and nutrient content.
Ingredients List
Tracheal Cartilage (Bovine) (New Zealand pasture-raised, grass-fed, grass-finished, regeneratively-raised, and freeze-dried) 3,000 mg per serving

Type II Collagen 1,200 mg per serving
Undenatured Type II Collagen 50 mg per serving

Chondroitin Sulfate 525 mg per serving

Other Ingredients: Gelatin (capsule)

Contains NO dairy, wheat, yeast, gluten, corn, sugar, soy, shellfish, tree nuts, or preservatives. Made without stearates, fillers, binders, flow agents, or additives of any kind.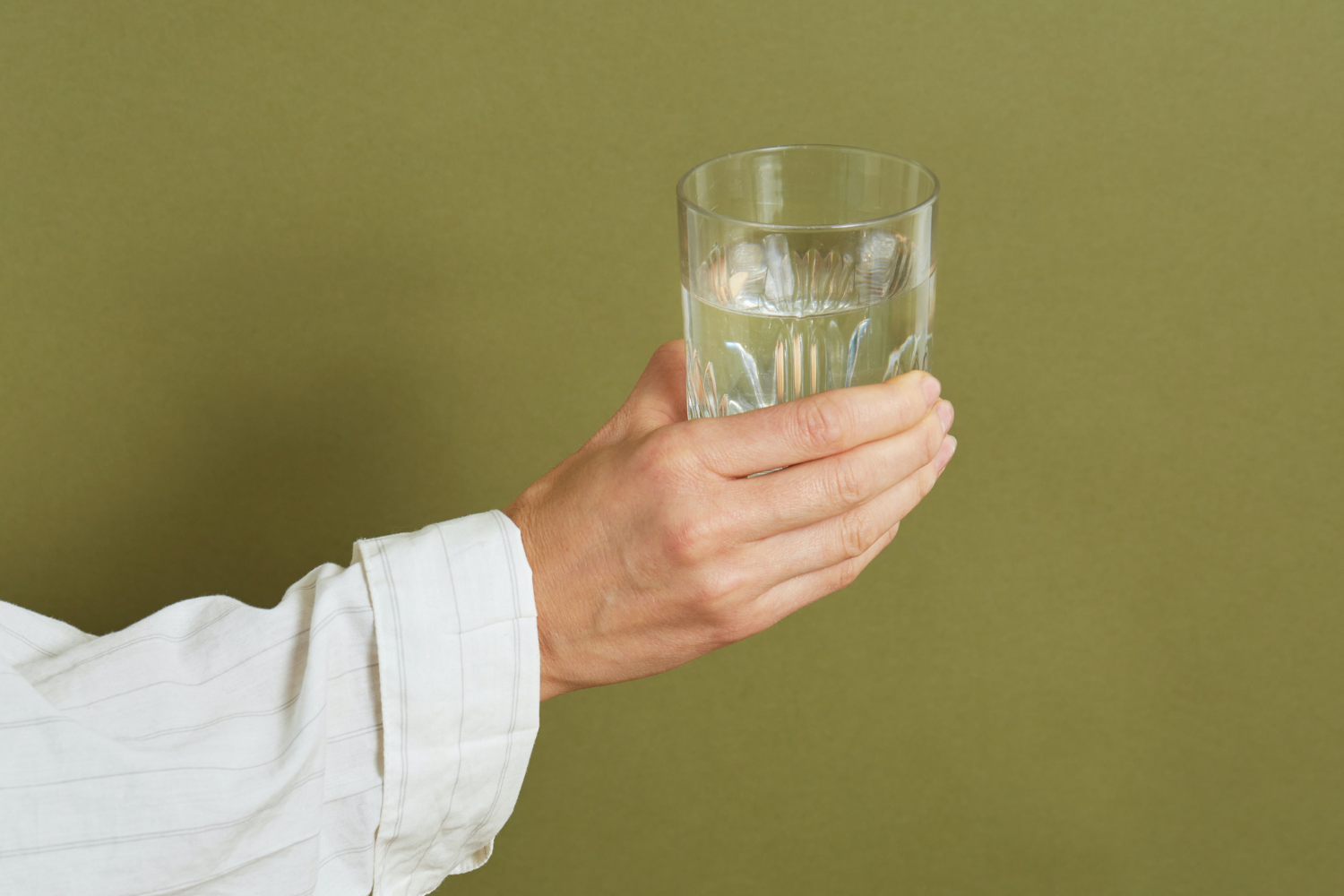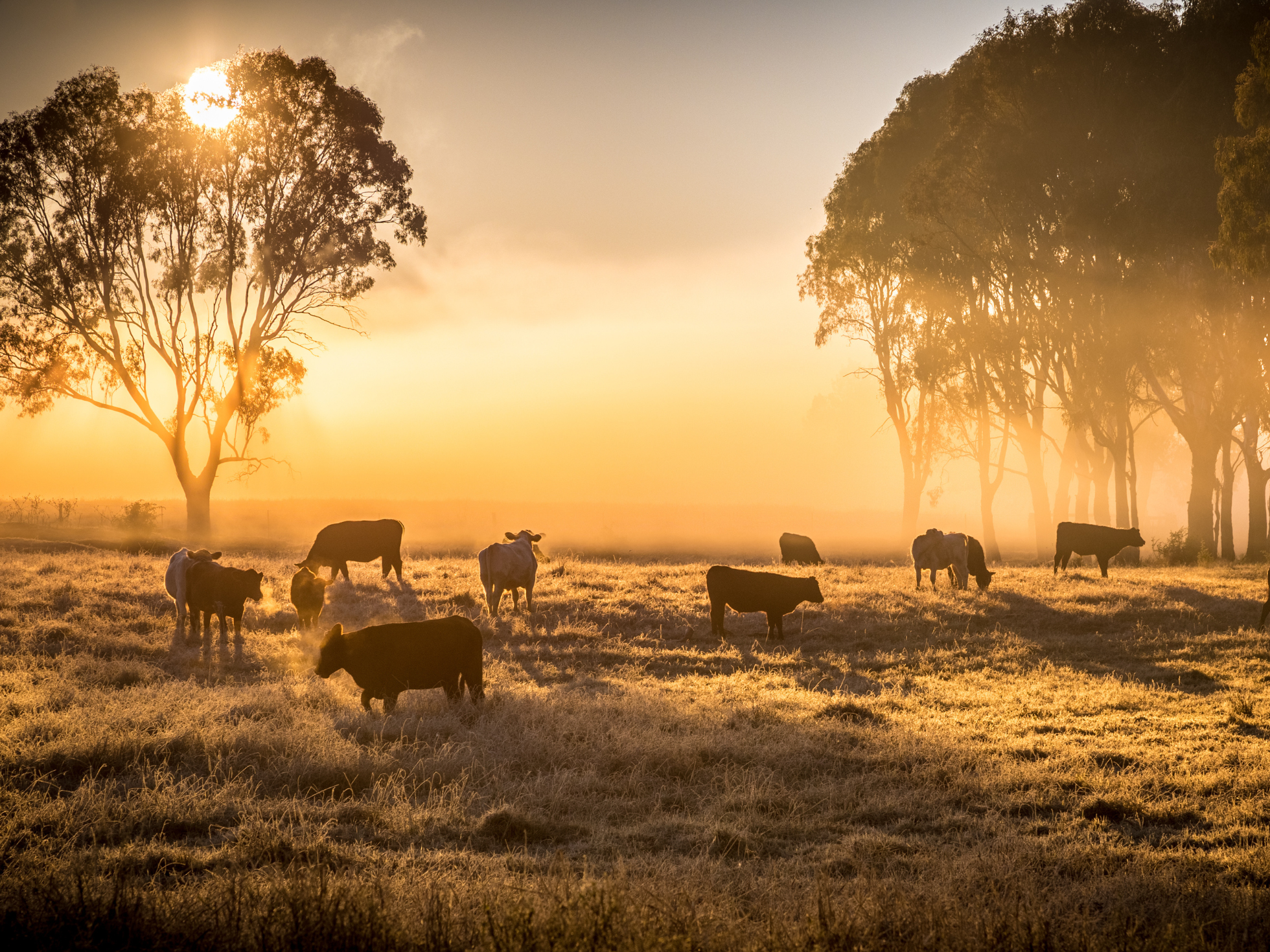 01
A superior source of collagen
Like many nose-to-tail animal foods that are no longer part of typical modern diets, cartilage represents a lost source of important nutrients and cofactors that support a resilient body. It provides the cartilage building blocks type II collagen, chondroitin sulfate, glycosaminoglycans and proteoglycans. Bovine tracheal cartilage has been noted for its unique ability to promote joint health, immune balance and wound healing. Unlike trendy collagen powders and capsules, bovine tracheal cartilage provides the building blocks that support collagen production and connective tissue health in a whole-food matrix your body can easily utilize.
02
An easy way to get the benefits of cartilage
Our Pastured Cartilage Collagen is made from whole, undenatured (undamaged by heat or chemicals) bovine tracheal cartilage, which supplies health-promoting nutrients in their naturally occurring forms and ratios. These nutrients provide the building blocks your body needs for healthy joints, bones, cartilage and immune function.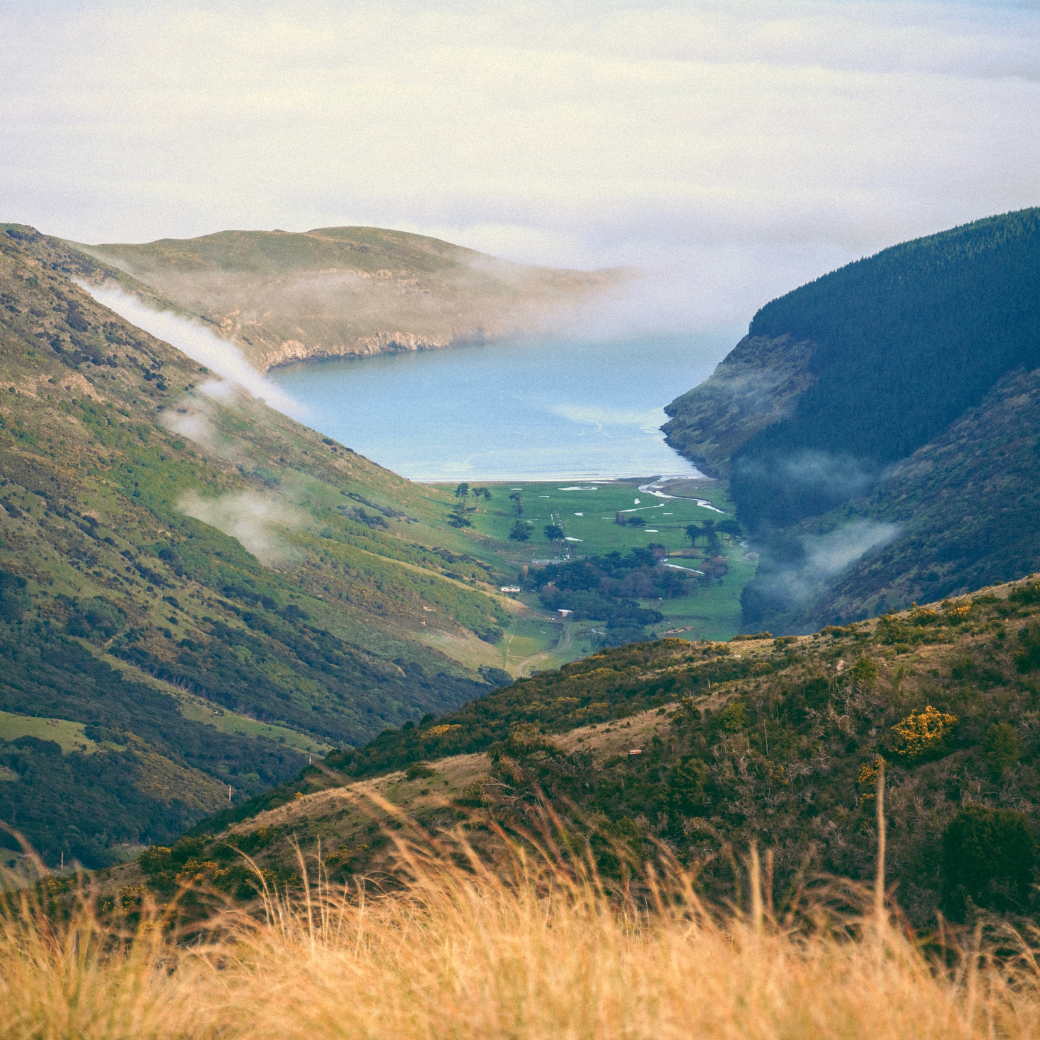 Customer Reviews
Good Stuff
I think it helps. I notice a difference when I don't take it.
Pastured cartilage collagen
I can take the capsules on an empty stomach and it's no problem. I am in my mid 50's and I am looking to replenish my collagen levels and also strengthen my joints and cartilage. I was in an accident recently where I broke my pelvis. These capsules have definitely sped up the healing process.
Great company.
Really enjoying these in addition to my high animal based diet. I need more collagen than most due to a genetic issue with joints, so I take 8 of these per day to help. Real collagen, unlike the powdered products on the market that are basically waste products turned into a powder. This is true collagen! Wish you guys offered an adrenal glandular!
FAQs
There have been studies analyzing the best time of day to supplement with Collagen, and both early morning and late evening consumption have produced similar outcomes, so there is no conclusive evidence that taking collagen at a certain time of the day will produce better results. What it really comes down to is what is most convenient for the individual, and ensuring that, regardless of the time of day, that you are incorporating it into your daily routine consistently. The same is going to be true for consuming all four capsules at once vs. spreading the dosage throughout the day, as well as on an empty stomach or with a meal. Do what fits best into your routine and will allow you to stay consistent.


Yes, the only ingredient in Cartilage Collagen in gently freeze-dried trachea sourced from grass-fed and finished pasture-raised New Zealand cattle.


No, Enviromedica's Cartilage Collagen is a whole food supplement and is not hydrolyzed. Hydrolyzed collagen (aka collagen peptides) is considered "denatured" collagen, meaning the collagen protein molecule has been cleaved, typically by enzymatic processing methods. It is important to note that the majority of hydrolyzed collagen peptides currently being sold are purified type I and III collagen from bovine hide or fish scales. Our Bovine Tracheal Cartilage Collagen has not been hydrolyzed intentionally. Type II collagen does not exist in a purified form, but rather within a matrix of supportive co-factors such as chondroitin sulfate and native (undenatured) type II, all naturally occurring in tracheal cartilage. These bioactive fractions would be degraded or destroyed if put through a hydrolyzation process.


Our cartilage collagen is solely made up of bovine tracheal cartilage, which naturally contains type II collagen and other building blocks of cartilage, such as glycosaminoglycans and proteoglycans. "Specific nutrients such as chondroitin sulfate and hyaluronic acid are both glycosaminoglycans that are naturally found in the tracheal cartilage and known to have a beneficial impact on the health of cartilaginous tissues, the immune system, and more. These are simply a part of the tracheal cartilage - they are not separate ingredients. The 50mg of undenatured type II collagen indicated on the label is reflective of the precise quantity that it has been tested to contain - as well as the 525mg of chondroitin sulfate.


New Zealand is entirely GMO-free, so the grass that these animals graze on is non-GMO. Because these pastures are being used for grazing, not growing crops, there is no need to treat the area with pesticides. However, to ensure the product's safety, all of the lots we produce are subject to Enviromedica's rigorous quality control program, which includes testing for heavy metals, microbiological contaminants, harmful chemicals, and screening for allergens.


The gelatin used in our capsules is pure bovine gelatin. While other brands may use the cheaper sourced porcine gelatin for the manufacture of capsules, Enviromedica's commitment to quality ensures that we use only the finest ingredients in every aspect of our products.


At Enviromedica, we source the highest quality ingredients from around the world. However, not all ingredients can be accurately described as organic.⁠ This certification refers to specific farming methods that avoid synthetic chemical pesticides and fertilizers, employ happier, healthier, humane treatment of animals, and utilize more sustainable environmental practices with higher quality soil. As far as farming goes, organic is the gold standard.⁠

Beyond grass-fed and grass-finished, pasture-raised New Zealand cows have earned their place as the healthiest, highest quality bovine available worldwide. New Zealand adheres to the same exemplary health standards - free of antibiotics and synthetic growth hormones - while allowing their cows the freedom to graze and roam as nature intended. In this case, the standard for Organic would impede the farmer's ability to allow for fully pasture-raised cows.⁠ These animals spend the entire duration of their existence grazing in open pastures and are not fed any grains, organic or conventional, so they cannot be labeled "organic".

Bottomline: Sourcing is everything. While not every product we formulate is stamped organic, our ingredients will always be of the purest and highest quality available.⁠ Please feel free to contact us directly if you have any further questions.


Unfortunately, our Encapsulated Organ Meats are not certified Halal. That being said, as it relates to the processing of the animals, this activity is done in a low stress and peaceful atmosphere in a humane and respectful way.


As whole-food supplements, the precise nutrient contents of our encapsulated organ meats will vary slightly from lot to lot, depending on the individual cow from which it is sourced and the season in which it was harvested. Just as the grass-fed beef, beef liver, or other organ meats that you would purchase from a local farmer or butcher will vary slightly depending on the specific cow, where it grazed, and the season in which it was processed, the same is true for our whole-food supplements. Like our ancestors, we do not regularly perform full nutritional assays and embrace the wisdom that incorporating nutrient-dense organ meats into the diet can provide many benefits.

Some general information can be obtained from the in-depth articles provided in the Learn section on our website.


Yes, our freeze-dried organ meats are regularly tested for heavy metals and microbiological contaminants both pre and post-encapsulation. We've attached a Certificate of Analysis for your reference.

The ranchers that raise our animals do not use glyphosate on their open pasture land, so it is not tested for. However, the New Zealand Ministry for Primary Industries regularly performs testing on cattle as a precautionary practice. To date, no New Zealand bovine (or bovine products) have been identified with detectable levels of glyphosate, which is one of the many reasons the country is globally considered second to none regarding its strict animal husbandry practices.